The Census of 1900 states that William was born in New York. Additional materials suggest to us that he came from Putnam in Washington County, NY.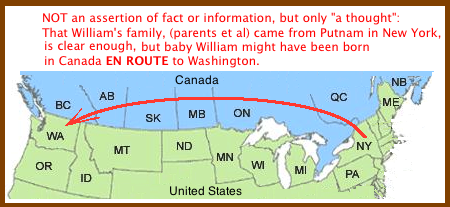 This is only a temporary "thought" until we can do a little more research: Genealogists assisting us on William produced two (2) differing "statements" as to his birth: As noted above, one source indicates he came from Putnam in Washington County, NY. But another said he was born in Canada. We have not "settled" the matter yet. But this much is certain: His parents came to Washington "Territory" from Putnam in Washington County, NY. We are presently entertaining the "theory" that the parents et al took the Canada route to Washington, and that perhaps baby William was born "en route" or during a stop-over or stay in Canada for that purpose (his birth). So, naturally the parents might list where they had "come from" (Putnam in Washington County, NY) as where their baby also was "from" although he was actually born "en route" (in Canada).

Next we have that our William H. Graham married Emilie Naher in Washington Territory around 1883. Emilie was born in Minnesota, but was residing in her parent's home in King County in Washington Territory until marrying William. Her parents were natives of Germany.

They had a farm (one source refers to it as "a ranch just outside of the town of Napa." The Census for 1900 at Napa shows a Chinese cook and four laborers living on the ranch (or farm).

William H. Graham & Emilie had 5 sons:

1. Harold M. Graham born July 1885 in King County, Washington.

2. William N. Graham born 1886 in King County.

3. Karl L. Graham born Nov 1888 in King County.

Then the family moved to California (by 1895) where they had the 4th son Donald Stimson Graham in August, 1895, and their 5th son Frederick, was born in Napa County in August, 1906.

Harold, William, Karl and Donald, were residing at Napa, California in 1900, and show in that census.

Their father William was 56 at the time of that census, and Emilie was 37.

Donald Stimson Graham may have been born in the town of Napa, but he spent much of his youth in the town of Vallejo in Solano County, and Napa, in Napa County.

Donald married Myrtle Polley of Vallejo around 1919. The Census of 1920 at Napa has Myrtle as Donald's wife. They had a daughter, Jo An, in 1922. Donald was a partner in an electrical contractor & parts business in Napa, called Graham-Lauretzen Electrical. Donald's partner was Albert M. Lauretsen.

Donald and Myrtle were married for approximately five years, and divorced, and each remarried, but they and both their families remained close, and participated in raising little Jo An. We have photographs that were taken of Donald and Myrtle and Jo An, and have warm and respectful letters that they exchanged.

In about 1926 Donald married one Yvonne Cellier who was previously married to a Mr. Smith, and they had two daughters. Myrtle married another man with the last name of Graham (James Graham) and so baby Jo An was Jo An "Graham" both before and after. The little family of Myrtle, James, and Jo An Graham, moved to Grand Avenue, in Oakland.

Donald Graham died in Solano County, CA Sep 17, 1980.

His daughter Jo An went on to marry and had children. Just through her there are presently (in 2014) about 28-32 living descendants of Donald Graham.