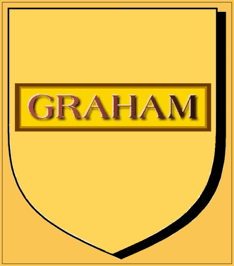 Donald Stimson Graham
Donald Stimson Graham's parents were William H. Graham & Emilie J. Naher. They (William & Emilie) were married somewhere around August, 1884, and lived in King County in Washington state ("Territory," actually) before moving to Napa, California.

Their first two sons, Harold M., and William H. Graham, were born in Washington state before the move.

Karl L. Graham, the third son, was also thought to have been born in Washington state before the move, but, we see a "Karl L. Graham" in the California Birth Index as born in Napa, so, either is possible until it is firmed up.

As stated, the family moved to Napa County, California, where they had a ranch just outside of Napa Township. I think I may be able to narrow down where that ranch may have been: A couple of Napa census records showing these Grahams mention them being in Napa's "Salvador Township" or refer to "Napa Township, Salvador Precinct." This "Salvador" place was a land grant just north of Napa Township proper. More precisely, 5 miles north/northwest of Napa Township on Highway 29. Today "Salvador Avenue" still intersects Highway 29 at that point. The old land grant was called by some "Salvador Ranch" and by others "Salvador's Ranch." It was eventually broken up into smaller parcels. I have seen an 1860 publication discussing the Napa vicinity, containing the line, "... what was formerly Salvador's ranch, now divided into a multitude of farms." So, by 1860 there were "a multitude of farms" in this "Salvador" area, roughly 5 miles north of Napa proper. The Graham's "ranch" just outside of Napa was likely one of these "farms." Today the town of Napa has grown, and what is now termed "North Napa" engulfs the old Salvador district. So, on a map, the intersection of Salvador Avenue & Highway 29 is probably the best identifiable marker for where the Graham's place was.

William & Emilie's fourth son, Donald Stimson Graham, was born August 19, 1895, in Napa, California.

Their fifth son, Frederick, was likewise born in Napa.

When I say "Napa" I mean Napa County. More precisely, they were born in that Salvador district just north of Napa Township, in Napa County.

The family is in the 1900 Census, as being still at "Salvador, Napa, Calif," and Donald is aged 4.

Donald Stimson Graham and Myrtle Polley were childhood sweethearts. Their two families were friends, they went to school together, lived near one another, and Donald & Myrtle fell madly in love, and they planned to marry.

The first World War:

There are WWI Draft Registration Cards on file for Donald, for 1917-1918, when he was about 21. I do not have details yet concerning his military service, but, of course we know the War ended in 1918. Donald worked for many years (between 20 - 35 yrs) in electronics. Both he and Myrtle's brother, Lowell Polley, got work at the Mare Island Naval Shipyard just 14 miles south of Napa at Vallejo, in Solano County. And Donald's work there was in electronics. It appears that he "commuted" back and forth between Napa and Vallejo, or, if not a daily commute, he was certainly back and forth constantly.

Donald was engaged to Myrtle in August, 1918.

They married in 1919 in Napa. The Census of 1920 at Napa has them there, and shows Myrtle as Donald's wife.

In 1921 they moved to Vallejo to be closer to Donald's work at Mare Island.

A glance at a map of the region is instructive: The 14 mile connecting route between Napa and Vallejo is Highway 29. Numerous kin of theirs lived in communities along Highway 29, clear up to Middletown in Lake County. Also, if you trace the route from Middletown eastward to Grass Valley, kin of Myrtle's lived out along that route, too. Those two "lines" are an easy way of geographically locating where that branch of the family lived.

Myrtle became pregant in December 1921.

She gave birth to baby Jo An September 8th, 1922 in Vallejo, California.

Donald and Myrtle were married for approximately five years, and divorced, and each of them remarried, but they and both their families remained close, and cooperated in raising little Jo An. We have photographs that were taken of Donald and Myrtle and Jo An together during those post-divorce years, and we have warm and respectful letters that they exchanged. It is clear that they remained good friends, throughout.

In 1926 we can tell that Donald was spending time in Lake County, Napa County, and Solano County.

Around 1926 Donald married Yvonne Cellier of Napa. She was previously married to a Mr. Smith. Yvonne had two daughters, Eleanor and Buddie. My impression has always been that both were from the Smith union, but I am not certain. I think that Eleanor was born in about 1924, and Buddie in about 1925. Certainly Eleanor, the eldest sister, was from the Smith union. But both of them bore the last name of Graham. There is also a slight possibility that Buddie is Eleanor's child, and not her sister.

Myrtle married again also, coincidentally to another man who had the last name of Graham (James Graham). And so, not only was Myrtle a "Mrs. Graham" twice over, but baby Jo An was a "Graham" twice over as well. The little family of Myrtle, James, and Jo An Graham, moved to Grand Avenue, in Oakland (later Myrtle & James would move to San Francisco, and, still later, to San Mateo, California).

Around 1927, Donald is found as co-owner of "Graham-Lauretsen Company, Electrical Contractors and Dealers, Radio Equipment and Service" in Napa, Calif.

It is thought that his next move was to Oakland, California. And he may have relocated that same business from Napa to Oakland. He was living in Berkeley in 1930, which is "right next door" to Oakland.

After that he and his family (he, Yvonne, Eleanor and Buddie) settled permanently in Vallejo. He also had connections with St. Helena, California.

Donald Graham died in Vallejo, Solano County, CA Sep 17, 1980, at age 85. Until the time of his death, his obit in the Vallejo Times-Herald said his address was at Karen Court, Vallejo.

Donald's daughter Jo An grew up, married, and had children, and so, grandchildren, and now there are great grand-children and so on. Just through Jo An alone as of 2012 there were roughly 30-33 living descendants of Donald Stimson Graham.
PHOTOS OF DONALD STIMSON GRAHAM
DONALD'S FATHER, WILLIAM
DONALD'S DAUGHTER, JO AN
HOME
---